Si te atreves
yo estaré aquí,
dónde nos vimos por última vez.
Ese lugar donde no podrás dejar de soñar
y cumplir todos tus sueños hasta que se hagan realidad.
Te doy mi palabra,
yo estaré aquí,
a bordo del mayor crucero jamás imaginado.
Un nuevo concepto de aventura se abre ante tí, es el #SymphonyoftheSeas
Este es tu artículo si decides embarcarte en un crucero, pero sobre todo si es el Symphony of the Seas. Antes de nada, si es tu primera vez, te aconsejo que sigas este link y descubras el post que escribí sobre mi primera vez en un barco de estas condiciones, en él escribo mis impresiones, tips, consejos y cosas a tener en cuenta.
This is your article if you decide to embark on a cruise ship, but especially if it is the Symphony of the Seas. First of all, if this is your first time, I advise you to follow this link and check out the post I wrote about my first time in a boat of these conditions, I wrote my impressions, tips, and things to keep in mind.
Y ahora si que sí, ¿qué se puede decir de un barco al que catalogan como el más grande del mundo? Pues claramente que es enorrrrme. Pero más allá de eso…
No puedo obviar mi emoción al haber pasado otra experiencia increíble junto a 
Royal Caribbean
, donde mi compañera
 Aida Rivero 
y yo, tuvimos la suerte de disfrutar desde la ciudad andaluza de Málaga hasta la cosmopolita Barcelona.
REINVENTARSE
Una de las cosas que más me gustó de este nuevo "concepto" es que han adaptado nuevas formas tecnológicas de hacerle la vida más fácil y cómoda y sus pasajeros.
El nuevo check-in online.
"Este check-in elimina colas y esperas. El nuevo proceso aprovechará una combinación de reconocimiento facial, códigos de barras y balizas para hacer el embarque lo más rápido posible.
Los clientes se registrarán a través de la nueva aplicación móvil de Royal, para lo cual será necesario subir un selfie y el registro se podrá hacer desde casa. A su llegada al barco, los cruceristas pasarán por un control de seguridad y luego se dirigirán directamente a su camarote, donde su llave les estará esperando. Además del check-in móvil, contará con toda la tecnología pionera y por lo que la marca es reconocida. Un ejemplo es la aclamada VOOM, el internet más rápido en el mar, sistema de señalización de vanguardia y balcones virtuales."
And now… what can be said of a ship to which rank as the largest in the world? Because clearly that is bigger thank anything I have seen ever. But beyond that… I can't ignore my excitement having passed another incredible experience together with Royal Caribbean, where my partnet in crime Aida Rivero and I, we were lucky to enjoy from the Andalusian city of Málaga to the cosmopolitan Barcelona.
REINVENT
One of the things that I liked the most of this new "concept" is that they have adapted new technological forms of make life easier and more comfortable to their passengers.
The new online check-in.                                                                                                        "This check-in queue and waiting. The new process will draw upon a combination of facial recognition, bar codes, and beacons to make the shipment as quickly as possible. 
The clients are recorded through the new mobile application of Royal, for which it will be necessary to upload a selfie and registration can be done from home. Upon arrival at the boat, cruise passengers will pass through a security check and then be directed directly to your cabin, where your key will be waiting for them. In addition to the check-in cell, will count with all the pioneering technology and by what the brand is recognized. One example is the critically acclaimed VOOM, the internet faster into the sea, state-of-the-art signalling system and virtual balconies."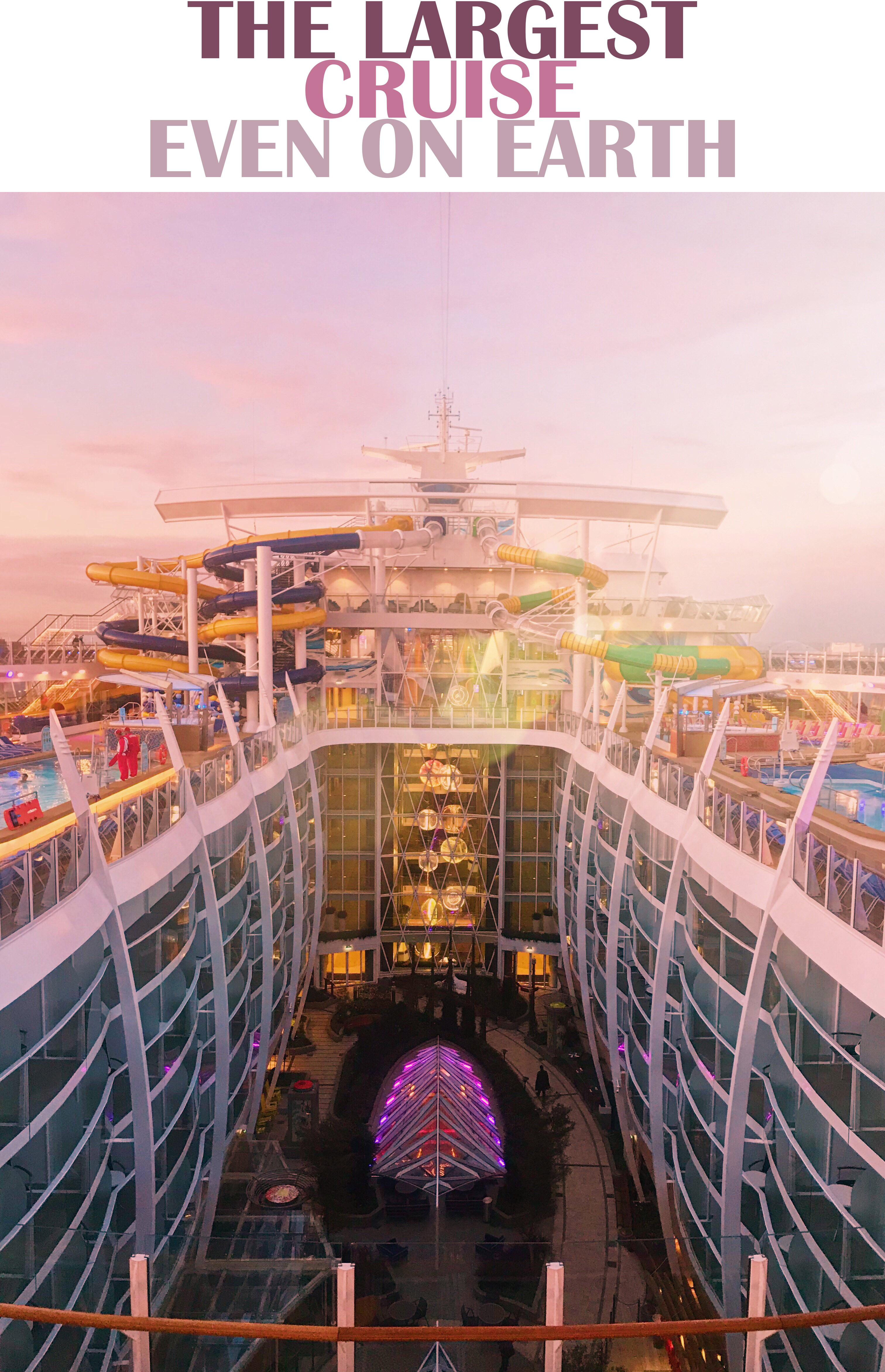 Nada más entrar por sus gigantescas compuertas te das cuenta que se crea un aura nueva que te hará sentir en otra dimensión. Estoy segura que este nuevo concepto vacacional redefinirá los viajes familiares y de aventura este 2018.
PREFERENCIAS EN ALTA MAR
Una de las cosas que más me gustan de ir en crucero es sin dudas estar en un camarote con vistas al océano, ver los amaneceres o en su defecto atardeceres… es simplemente brutal.
Levantarse temprano (sobre las 6.00 A.M.) para disfrutar de un buen desayuno o un relajante amanecer.
Recomiendo que si te apetece meterte en las piscina o jacuzzi, lo hagas antes de las 10.00 A.M. porque sino lo compartirás con otros muchos y quizás te sientas incómoda.
Prueba si tienes oportunidad comer en algún restaurante y no sólo en el buffet.
Disfruta de las miles de ofertas de ocio que tiene el barco.
Nothing else enter his gigantic gates you realize that you create a new aura that will make you feel in another dimension. I am sure that this new concept resort will redefine the family travel and adventure this 2018.
PREFERENCES ON  THE SEAS
One of the things I like most about going on a cruise is, without a doubt, be in a cabin with a view of the ocean, see the sunrises or sunsets… is simply brutal.
Get up early (about 6.00 A.M.) to enjoy a good breakfast or a relaxing sunrise.
I recommend that if you fancy a dip in the swimming pool or jacuzzi, do so before 10 a.m. because but what you will share with many others and it can make you feel uncomfortable.
Test if you get a chance to eat in a restaurant and not only at the buffet.
Enjoy the thousands of leisure offers of the ship.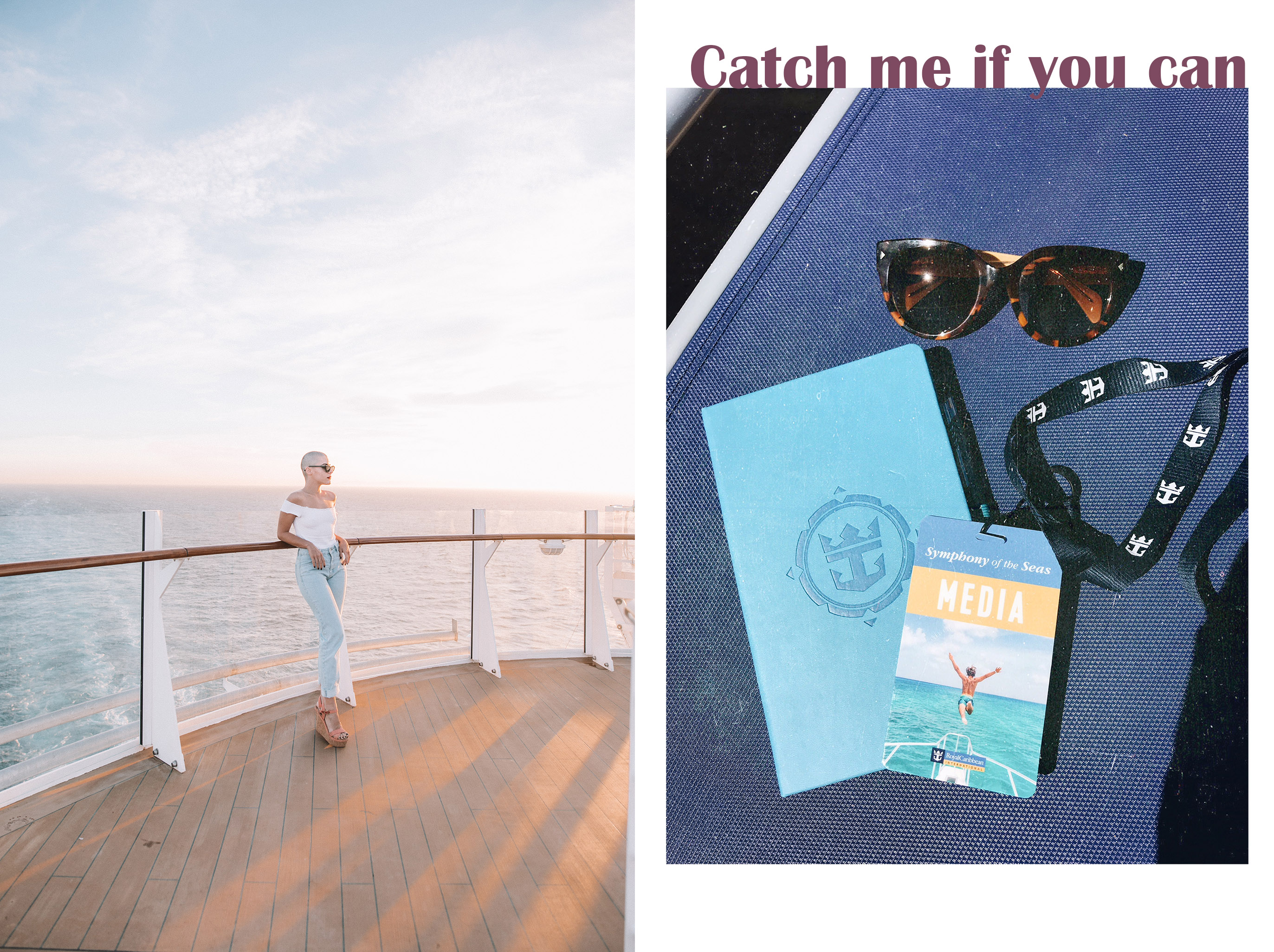 No puedes dejar de ir al punto en común en el barrio de Royal Promendade, en Bionic Bar, el lugar donde ordenarás tu cocktail y será servido por robots, es realmente una pasada, nos quedamos en shock. Además, la oferta gastronómica es imparable, se suman más de 20 restaurantes que se encuentran repartidos entre los siete barrios del buque.
– El Izumi Hibachi and Sushi
– Wonderland Creative Cuisine Concept
– Bionic Bar
– Casino
– Central Park
7 BARRIOS, CON EL CLÁSICO BOARDWALK RENOVADO
– BOARDWALK
Espacio al aire libre inspirado en los antiguos muelles costeros famoso por su icónico tío vivo tallado a mano o su impresionante Aquatheater que ofrece atractivos espectáculos con el mar de fondo.
Playmakers Sports Bar & Arcade, lugar de reunión donde ver los grandes eventos deportivos o el Sugar Beach, coqueta tienda de caramelos y helados.
– CENTRAL PARK
Tomando el nombre del icónico barrio Neoyorkino, este espacio es un remanso de paz con más de 12.000 exuberantes plantas tropicales y serpenteantes caminos donde leer y relajarse. Además cuenta con boutiques e interesante restaurantes como Jamie's Italian by Jamie Oliver, 150 Central Park, Vintage Wine Bar y su Park Café con vistas a la plaza central.
– ZONA DE ENTRETENIMIENTO
Club nocturno contemporáneo con opciones para todo tipo de gustos. Cuenta con el Casino Royale (el más grande en alta mar), Studio B, pista de hielo, The Attic, espacio con aires de club de comedia y Jazz on 4, con actuaciones en vivo de jazz y blues.
– PISCINA Y ZONA DEPORTIVA
Las más apasionantes aventuras con The Ultimate Abys, el tobogán más alto del mar, The Perfect Thorm, un trío de togobanes acuáticos, Flowrider, dos simulares de surf, camop de mini golf y piscina de la playa,
– ROYAL PROMENADE
Bulliciosa calle principal llena de restaurantes, bares y tiendas en las que destaca el Bionic Bar, impulsado por Makr Shakr o el Rising Tide Bar.
– YOUTH ZONA
Destinadas a los más jóvenes, podrás bucear en sus amplias instalaciones.
– SPA AND FITNESS CENTER
El más grande de alta mar
You can go to the point in common in the neighborhood of Royal Promendade, Bionic Bar, the place where ordenaras your cocktail will be served by robots, is really a pass, we stayed in shock. In addition, the gastronomic offer is unstoppable, there are more than 20 restaurants that are distributed among the seven districts of the vessel.
MY BEST
– The Izumi Hibachi and Sushi
– Wonderland Creative Cuisine Concept
– Bionic Bar
– Casino
– Central Park
7 NEIGHBORHOODS WITH THE CLASSIC BOARDWALK RENOVATED
– BOARDWALK
outdoor space inspired by the ancient coastal springs famous for its iconic uncle live hand-carved or its impressive Aquatheater that offers attractive shows with the sea in the background. Playmakers Sports Bar & Arcade, a meeting place where you can watch major sports events or the Sugar Beach, coquettish candy store and ice cream.
– CENTRAL PARK
Taking the name of the Iconic New York neighborhood, this space is a haven of peace with more than 12,000 lush tropical plants and winding roads where to read and relax. In addition account with boutiques and interesting restaurants such as Jamie's Italian by Jamie Oliver, 150 Central Park, Vintage Wine Bar and its Park Cafe with a view to the central square. – A contemporary entertainment night club with options for all tastes.
– A CONTEMPORARY ENTERTAINMENT
A night club with options for all tastes. Account with the Casino Royale (the largest in the high seas), Studio B, ice rink, The Attic space with airs of comedy club and Jazz on 4, with live performances of jazz and blues.
– SWIMMING POOL AND SPORTS AREA
The most exciting adventures with The Ultimate Abys, the highest water slide of the sea, The Perfect Thorm, a trio of aquatic slides, Flowrider, two camop simulares of surfing, mini golf course and swimming pool on the beach
– ROYAL PROMENADE
Busy main street full of restaurants, bars and shops in the Bionic Bar, driven by Shakr Makr or the Rising Tide Bar.
– YOUTH ZONE
Aimed at the young, you will be able to dive in its large installations.
– SPA AND FITNESS CENTER
The largest of the high seas
Quizás una de las mejores cosas es disfrutar de las diferentes ofertas y actividades que ofrece el barco, jamás dejes de hacerlo aunque haya mucha cola, merece la pena de principio a final.
OFERTA
HAIRSRAY, es el primer musical de Broadway que ha sido trasladado al mar.
FLIGHT, una sátira de corte histórico que trata sobre la evolución del viaje en avión y termina con un homenaje a los hermanos Wright.
HIRO, un nuevo espectáculo acuático que dejará a todo el mundo sin palabras con las distintas acrobacias y actividades de buceo.
STUDIO B te hará viajar en el tiempo con 1977, un espectáculo tecnológico de patinaje sobre hielo. Los efectos especiales transformarán Studio B en el escenario láser más grande y moderno del mundo con Battle for Planet Z.
ESCAPE THE RUBICON, un desafía inigualable en el que hará que aprender a trabajar en equipo y a contrarreloj para escapar del submarino Rubicon antes de que acabe el tiempo.
Zip line
Low Rider
Toboganes más largo del mundo en alta mar.
Perhaps one of the best things is to enjoy the different offers and activities offered by the boat, never leave to do so even if you have a lot of tail, worth from start to finish.
OFFER
HAIRSRAY, is the first Broadway musical that has been moved to the sea.
FLIGHT, a historical satire that focuses on developments in the travel and ends with a tribute to the Wright brothers.
HIRO, a new show that will leave the whole world without words with the various stunts and scuba diving activities.
STUDIO B will make you travel in time with 1977, a technological show of ice skating. The special effects will transform Studio B in the largest and most modern laser in the world Battle for Planet Z.
ESCAPE THE RUBICON, a unequalled in the challenges that will learn to work in teams and to escape from the submarine Rubicon before time runs out.
Zip line
Low Rider
Slides in the world on the high seas.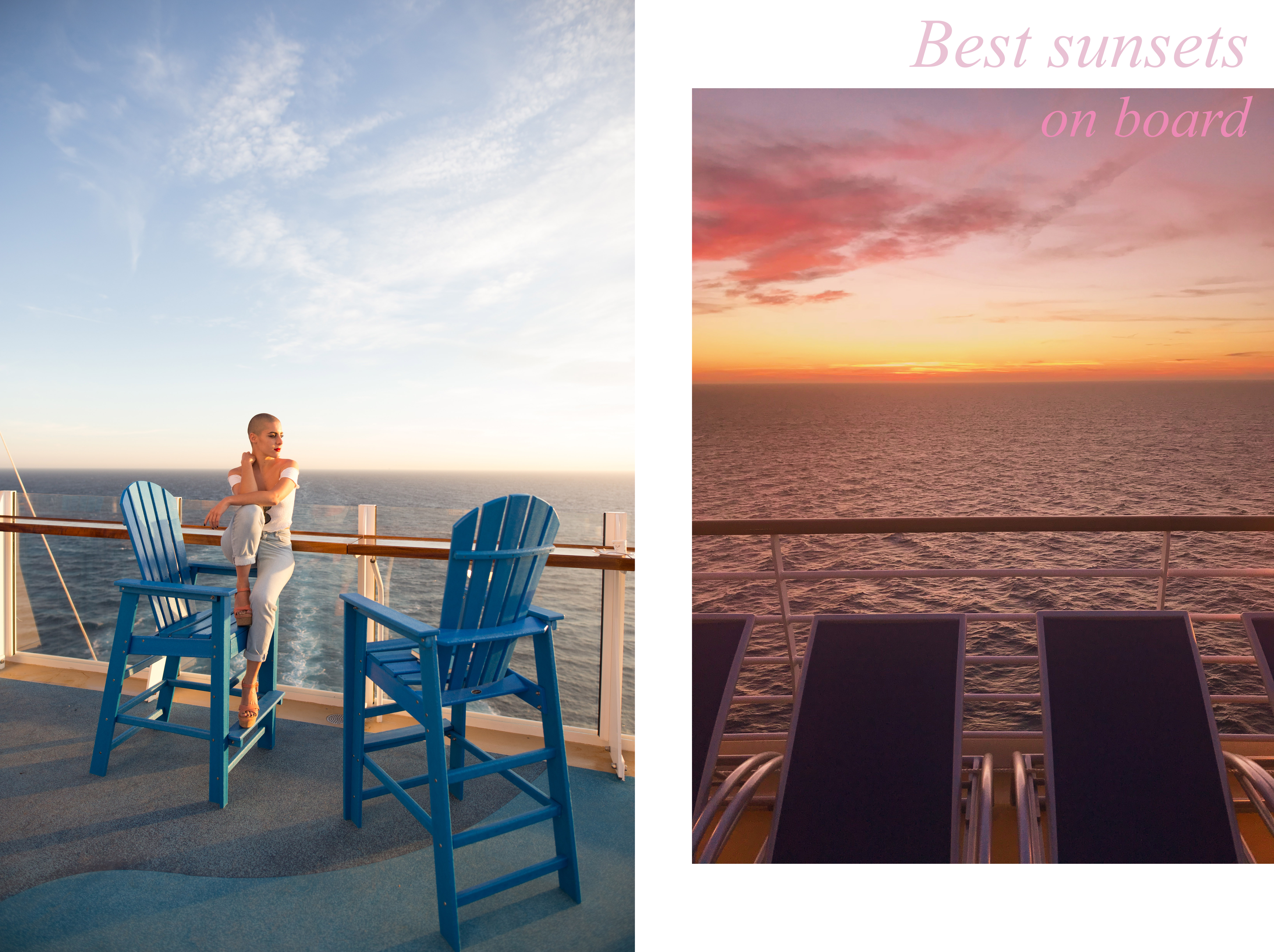 Aunque está claro que no hay nada como leer mientras escuchas el vaivén de la olas mientras la brisita marina roza tu alma, eso sí, al mismo tiempo que los últimos rayos de sol se despiden de tu piel.
Although it is clear that there is nothing like reading while listening to the swaying of the waves while the marine brisita slash your soul, that if, at the same time as the last rays of the sun say goodbye to your skin.
Fotografía por Aida Rivero y Marta Purriños