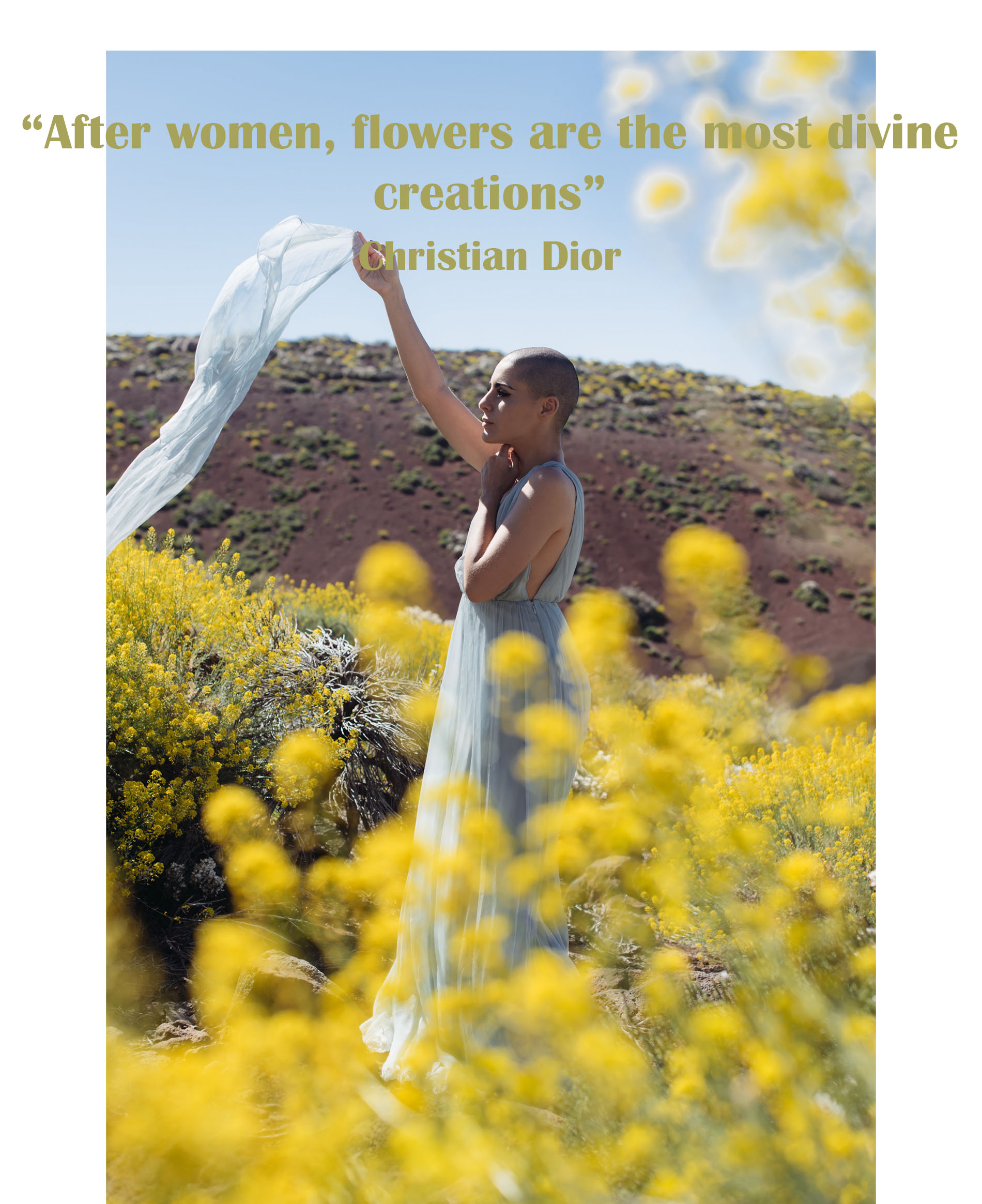 No hay nada más bonito que ver florecer la vida, ¿o no? Dentro de unos días se marchará nuestro sutil invierno para dar lugar al equinoccio de primavera, sin lugar a dudas, una estación preciosa que nos permite comenzar a usar estampados muchos más vivos, aunque aquí en Canarias, prácticamente todo el año podemos ponernos lo que queramos 🙂 (suerte del isleño).
Una vez más, la isla de Tenerife es protagonista para sacar una sesión de lo más llamativa pero que al mismo tiempo destaca por la armonía de los colores que envuelven mi propuesta convirtiéndola en un look muy casual, y se preguntarán, ¿cómo es posible si es un vestido? Y todos sabemos que este tipo de prenda siempre aporta esa sofistificación a nuestro outfit, haciendo que nos veamos muchos más formales.
Pues muy sencillo, el tono del vestido, de un azul pastel, es perfecto para dar suavidad a nuestro rostro, convirtiendo ese "look tan glamuroso"  es un vestido que podemos sacar una bonita tarde de primavera o verano, también pienso que su corte en uve favorece a nuestra piel, pues la expone y la luce de una manera muy delicada, si además aportamos "sobriedad" en cuanto a complementos, puede pasar mucho más desapercibido. Así que nunca duden en usar vestidos si la ocasión lo requiere 🙂
There is nothing more beautiful than to see blossom the life, or not? I'm so excited because Spring is coming, without a doubt, it's the season that allows us to begin to use prints many more colorful, like flowers, geometrycal, mixing colors, tones, textures… although here in the Canary Islands, almost all year we can wear what we want 🙂 (Luck of the islanders).
Once more time, Tenerife is the protagonist for a special shooting between the landscapes and fashion, the perfect harmony by the colors that surround my proposal, making it look very casual, and you wonder, how is it possible if you are wearing a glamorous dress? I'm just saying that this type of garment always brings the sophistication to our outfit, making us see many more formal, butt all depends how you combine it and the attitude.
It is very simple, the tone of the dress, a pastel blue, is perfect for giving softness to our face, turning this "look so glamourous" it is a dress that we can wear  in a beautiful date on Spring or Summer, I also think that its court in Euv favors to our skin, in addition we bring "sobriety" in terms of add-ons, you can spend much more unnoticed. So never hesitate to wear dresses if the occasion requires 🙂