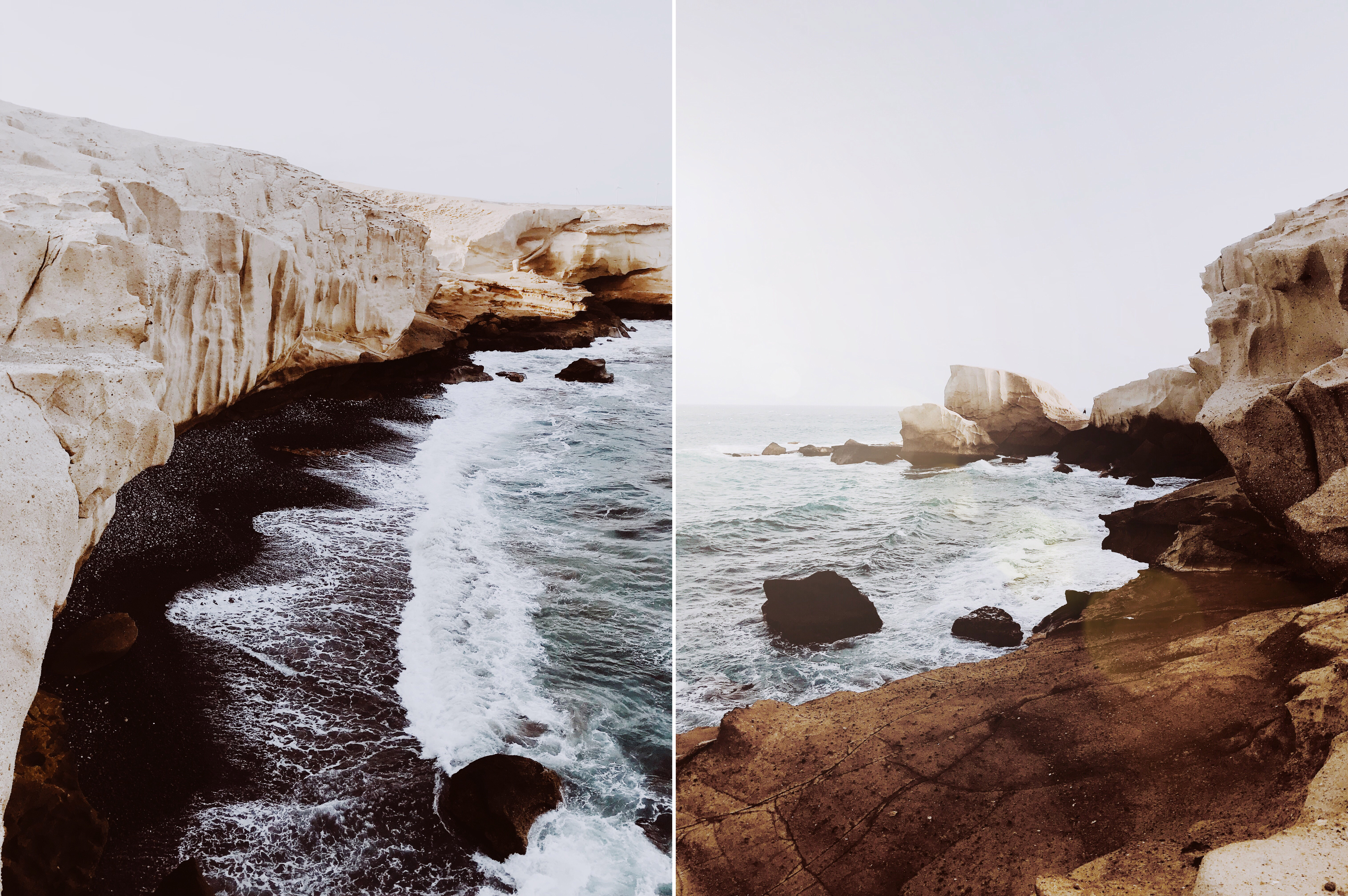 Alma de sal,
amor por el mar.
Ojos color coral,
piel de admirar
esta belleza sin igual.
Corazón para vibrar
ante la furia del huracán.

Texto por Marta Purriños
Alma de sal, amor por el mar. Piel hecha para respirar ante la furia del huracán.
Siempre un placer poder escribir desde un lugar tan maravilloso como es el litoral de la costa tinerfeña. El olor a salitre, el sonido del rugir de las olas y el agua bien fresquita refrescando nuestra piel del imponente sol, siempre es un buena idea, ¿no creen?
Hoy les muestro sin rodeos una de las playas más bonitas que han visto mis ojos.
Benijo sin lugar a dudas se lleva la corona de las playas más salvajes, diferentes y únicas de la isla con más extensión del archipiélago canario, pero… déjenme decirles que… sin querer contradecirme, San Miguel de Tajao y su preciosa playa tan pequeñita, tan solitaria, llenas de tantas roquitas, protegida por las inmensas rocas y muros que abrazan este rinconcito tan especial… la catapultan como la más bella sin igual.
Y más lejos de la playa que pensaban, (pues si buscas en Google «Playa de Tajao» te aparecen referencias de la playa más concurrida por los locales de este pueblito de pescadores), yo les invito a ir hacia la montaña más característica del lugar y que  le ha otorgado esa fama al pueblo y continúes subiendo ladera arriba para deleitarte ante esta maravilla.
Supongo que éste es uno de sus reclamos, la fuerza de la naturaleza, donde la erosión del fuerte oleaje y del viento han ido "diseñando" a su capricho este paisaje, lleno de texturas y colores muy propios del desierto.
Su manto lleno de rocas amarillas y las paredes que cubren el lugar, te protegen haciéndote sentir completamente solo, un paraíso para los aventureros.
No es más que una playa de callados, y que con la marea baja, esta zona resulta mucho más amplia para poder disfrutar del sol y como no, puede ser mucho más cómodo si sobretodo estás acostumbrado a la arena fina de otras playas de la isla de Tenerife.
Alma de sal, amor por el mar. Piel hecha para respirar ante la furia del huracán.
It's always a pleasure to be able to write from a place as wonderful as the coastline of the Tenerife. The smell of saltpetre, the sound of the roar of the waves and the water well cool refreshing our skin of the imposing sun, it is always a good idea, don't you think?
Today I show you one of the most beautiful beaches that have seen my eyes. Benijo without a doubt is the crown of wild beaches, different and unique on the island with more extension of the Canarian Islands, but… let me tell you that… without wanting to contradict me, San Miguel de Tajao and its lovely beach so tiny, so lonely, full of so many rocks, protected by the enormous rocks and walls that embrace this little corner so special… the catapults as the most beautiful without equal.
And farther away from the beach they thought, (because if you are looking for in Google «Beach Of Tajao» appear references of the busiest beach by the premises of this fishing village), I invite you to go toward the mountain more characteristic of the place and that you have been given that fame to the people and continue climbing uphill to delight in the face of this wonder. I suppose this is one of their claims, the force of nature, where the erosion of strong waves and wind have gone «designing» at their whim this landscape, full of textures and colors very own of the desert. His cloak filled with yellow rocks and walls that cover the place, protect you making you feel completely alone, a paradise for adventurers.
It is not more than a beach of quiet, and that at low tide, this area is much more wide in order to enjoy the sun and how it can be much more comfortable if above all are accustomed to fine sand of other beaches on the island of Tenerife.
Photography by Marta Purriños and Aida Rivero